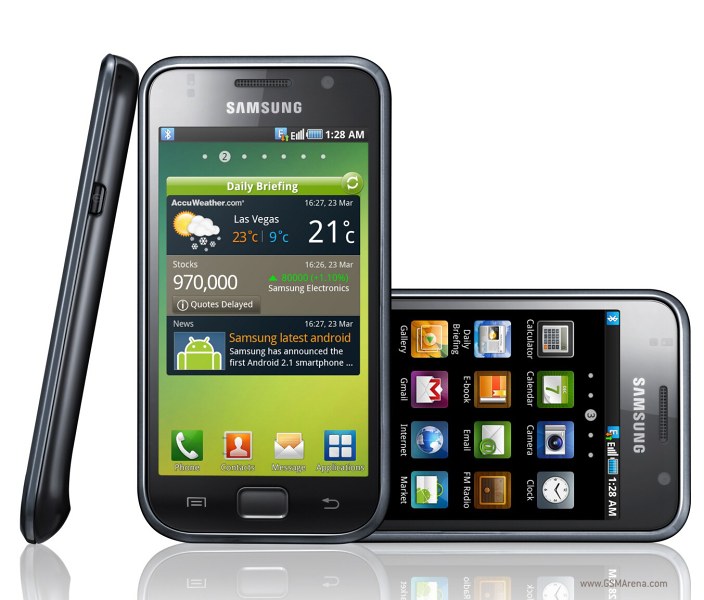 The I9000 Galaxy S packs a display of the greatest technology that the mobile world has ever seen and a pretty big one at that. With 1GHz Cortex A8 CPU, HD video recording and a sweetly slim waistline make it look like the real deal in the eyes of every real geek.
Features
General: GSM 850/900/1800/1900 MHz, UMTS 900/1900/2100 MHz, HSDPA 7.2 Mbps, HSUPA 5.76 Mbps
Form factor: Touchscreen bar phone
Dimensions: 122.4 x 64.2 x 9.9 mm, 118 g
Display: 4" 16M-color Super AMOLED capacitive touchscreen, 480 x 800 pixels
CPU: Samsung Cortex A8 Hummingbird 1 GHz processor
OS: Android 2.1 (Eclair)
Memory: 8/16GB storage, microSD card slot
Camera: 5 mega pixel auto-focus camera with face detection and touch focus; 720p video recording at 30fps
Connectivity: Wi-Fi, Bluetooth 3.0 with A2DP, standard microUSB port, GPS receiver with A-GPS, 3.5mm audio jack, FM radio
Misc: TouchWiz 3.0 UI, built-in accelerometer, multi-touch input, proximity sensor, Swype text input
Here is some secret code/ engineering menu about Samsung I9000 Galaxy S.
Every phone comes equipped with a secret codes where technician can easily access its internal settings and run testing modules. These codes or secret access are usually not specified in the phone manual that comes with it. Here are a Samsung Galaxy S ( and for all its variants Samsung Captivate, Samsung Vibrant , Samsung Fascinate , Samsung Epic 4G ) Secret Codes .
Samsung Galaxy S Secret Codes and their meaning
| | |
| --- | --- |
| Description | Code |
| for battery and other general settings like GSM/CDMA | *#*#4636#*#* |
| for factory data reset | *#*#7780#*#* |
| for Gtalk service monitor | *#*#8255#*#* |
| for information about phone camera (be very careful hitting options here) | *#*#34971539#*#* |
| change the "Power" button action in your phone. | *#*#7594#*#* |
| service mode | *#*#197328640#*#* |
| testing mode | *#0*# |
| display phones current firmware | *#1234# |
| GPS test | *#*#1472365#*#* |
| network mode/cell info/power info | *#0011# |
| screen test menu | *#*#0*#*#* |
| engineering mode | *#7465625# |
| GPS service menu for JP3 fw | *#3214789650# |
| FACTORY DATA WIPE AND internal SD RESET as soon as you enter # use only if you want wipe your phone | *2767*3855# |
| Opens a File copy screen where you can backup your media files | *#*#273283*255*663282*#*#* |
| View SW Version PDA, CSC, MODEM | *#1234# |
| SW & HW Info | *#12580*369# |
| Service Mode | *#197328640# |
| Ciphering Info | *#32489# |
| Bluetooth Address | *#232337# |
| Bluetooth Test Mode | *#232331# |
| WLAN MAC AWLAN MAC Address | *#232338# |
| WLAN Test Mode | *#232339# |
| Vibra Motor Test Mode | *#0842# |
| Real Time Clock Test | *#0782# |
| Audio Test Mode | *#0673# |
| General Test Mode | *#0*# |
| Diagnostic Configuration | *#9090# |
| Audio Loopback Control | *#0283# |
| TSP / TSK firmware update | *#2663# |
| NAND Flash S/N | *#03# |
| Light Sensor Test Mode | *#0589# |
| Proximity Sensor Test Mode | *#0588# |
| Data Create Menu | *#273283*255*3282*# |
| Data Create SD Card | *#273283*255*663282*# |
| Data Usage Status | *#3282*727336*# |
| Remap Shutdown to End Call TSK | *#7594# |
| Camera Firmware Update | *#34971539# |
| Camera Firmware Menu | *#7412365# |
| Test History | *#07# |
| Auto Answer Selection | *#272886# |
| Quick Test Menu | *#7353# |
| View Phone Lock Status | *#7465625# |
| Configure Network Lock MCC/MNC | *7465625*638*# |
Note : Playing with these setting might harm your cell. Use them carefully